BOS – Boston, MA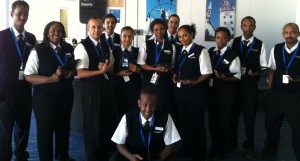 Boston's Logan International Airport is the nation's nineteenth busiest airport and the world's thirty-fifth busiest airport based on passenger volume.
For over 82 years, Logan International Airport has served as the center of aviation and gateway to New England. It all began in 1922, when the local business community led the fight for an airport in Boston. Logan's namesake, Edward Lawrence Logan, was born in Boston on January 20, 1875. A highly educated man, who reportedly never flew, he was a graduate of Boston Latin School – Class of 1894, graduated from Harvard College in 1898 and Harvard Law School in 1901.
Superior services American Airlines, Pen Air and Spirit Airlines at BOS.
Security Officer
Electric Cart Driver
Dispatcher
Ticket Guide
Bag Runner
Wheelchair Attendant