FLL – Fort Lauderdale, FL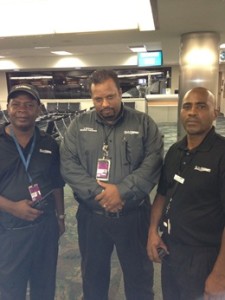 The Fort Lauderdale Hollywood International Airport serves millions of travelers from all over the world. Also known as FLL, the airport is ideally located in the heart of Broward County just minutes from Fort Lauderdale and white sandy beaches.
Superior services Air Canada, Lan Air, Bahamas Air, Allegiant, Air TranSat, Norwegian Bahamas, Sunwing, Vision Air and Frontier at Fort Lauderdale Airport.
Sky Cap

Must be able to perform the following functions in variable weather conditions as well as environmental conditions, i.e. jet engine fumes, vehicle emissions, dust, and jet engine noise. Ability to stand and walk for an eight hour shift in a no carpet environment. Bend and stoop, lift and handle articles weighing up to 70 pounds. Lift disabled individuals from cars to wheelchairs and push customers to departure gates. See, read and comprehend three letter city codes. Deliver baggage to the ramp area in a timely and efficient manner. Ability to speak and be understood in giving directions/information to passengers.

Baggage Handler


Assists Agents in loading baggage onto conveyor belts behind ticket counter and in the baggage claim area. Sorts and places baggage or items on racks, shelves or in bins according to size, type, style, color or product code. Opens crates and other containers. Fill in for sky caps as deemed necessary.

Wheelchair Attendant

Lift disabled individuals from cars to wheelchairs. Assists passengers who need the aid of a wheelchair to and from arrival and or departure gates.