MYR – Myrtle Beach, SC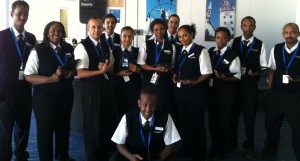 Myrtle Beach is the third-busiest airport in South Carolina behind Charleston and Greenville-Spartanburg, with nearly 1.7 million passengers (arriving and departing) in 2013. The airport is a focus city for Allegiant Air, and Spirit Airlines, which handles just over half of the total passengers using the airport.
Joint use of Myrtle Beach Air Force Base was first agreed in 1955.[13] The airport and terminal was constructed in 1975 and opened in 1976. On April 20, 1977, an agreement between the City of Myrtle Beach and the U.S. Department of Defense was signed, which incorporated the area of Myrtle Beach Airport into the city. Until 1993, both MYR and Myrtle Beach AFB jointly used the main runway; this limited civil operations to 30 landings per day and led to a local business movement to build an entirely new airport.
Superior services United American, Delta, Porter and Allegiant at the Myrtle Beach Airport
Sky Cap

Must be able to perform the following functions in variable weather conditions as well as environmental conditions, i.e. jet engine fumes, vehicle emissions, dust, and jet engine noise. Ability to stand and walk for an eight hour shift in a no carpet environment. Bend and stoop, lift and handle articles weighing up to 70 pounds. Lift disabled individuals from cars to wheelchairs and push customers to departure gates. See, read and comprehend three letter city codes. Deliver baggage to the ramp area in a timely and efficient manner. Ability to speak and be understood in giving directions/information to passengers.

Baggage Handler

Assists Agents in loading baggage onto conveyor belts behind ticket counter and in the baggage claim area. Sorts and places baggage or items on racks, shelves or in bins according to size, type, style, color or product code. Opens crates and other containers. Fill in for sky caps as deemed necessary.

Wheelchair Attendant

Lift disabled individuals from cars to wheelchairs. Assists passengers who need the aid of a wheelchair to and from arrival and or departure gates.